Unless you're recording using a tripod or some other way of stabilizing your camera – the video that you record is bound to be shaky to a certain degree. If you are an experienced photographer or video camera operator then you may be able to minimize how shaky it is, but for amateurs that is difficult to do.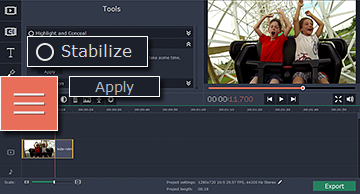 The good news is that even if your video recording has turned out looking shaky, it isn't completely ruined. In fact, it can probably be salvaged if you know how to edit your video and fix it by stabilizing the video itself.
Even if you're unsure how to do all that – just give it a try with Movavi Video Editor. In contrast to other video stabilization software, it is designed to be intuitive and user-friendly – and it will simplify the process so that it is easy to understand and carry out. In this case all you need to do is:
Add the video that you want to fix by clicking 'Add Media Files' and selecting it.

Open up the 'Tools' menu and select the 'Stabilize' option.

Click 'Apply' to start stabilizing your video (it may take a while to do so).

When you're done, review the video and save it by clicking 'Export'.
Suffice to say, Movavi Video Editor will automatically help you to stabilize your video through this method. By the time it is done, your video should look a lot better and smoother overall.
To really improve your video however, you should also take a crack at it with the other features in Movavi Video Editor. It has numerous tools that will help you improve the quality of your videos and fix most of the common issues that may arise. On top of that it is also able to cut and combine segments of video, apply various types of special effects and filters, add audio tracks for background music or voiceovers, and insert text that can be customized to create unique captions.
All in all you should be able to salvage even recordings that you may have assumed were beyond saving. In short, before you give up on any of your shaky video recordings in the future – run it through Movavi Video Editor and see whether or not you can improve it and maybe even tweak it in other ways as well.